IT'S HALLOWEEN IN AUGUST!!
Why is that exciting?  Because I have a story in this brand new anthology about a Bed & Breakfast in Maine with a mystical twist!  It's called THE COTTAGE ON PUMPKIN AND VINE and it contains 3 stories that all take place in the same Halloween weekend at a very special place. Three great romances!  And I'm SO excited to share this with you! See what Romantic Times Magazine called "spicy and delightful with a dusting of magic"!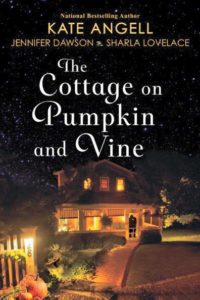 CHARMED BY YOU kicks it off by Kate Angell
MESMERIZED BY YOU is next by Jennifer Dawson
ENCHANTED BY YOU finishes it off by MEEEEEEE!!!
Click here to check out the synopsis!
Click here to go directly to Amazon and one-click that preorder!  LOL!!!  Thank you!
~~ xoxo