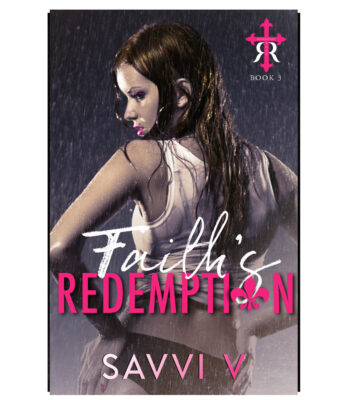 Faith's Redemption (Redemption Road #3)
5/2022
Where to Purchase:
Once upon a time, I was Redemption, Louisiana's golden princess.
The apple of my father's eye.
Sheltered and loved—admittedly favored—I never thought I was blind. At least not until a brutal attack left me for dead and exposed my father's darkest secrets. Now, I've had a taste from the bitter cup my sisters always knew. And it burns.
Throwing fuel to the fire, the only guy I've ever loved . . . the one who left me crushed . . . is home.
Adam Bishop.
Out of prison after six long years, he's back in Redemption to break my heart all over again. And just as the town's most dangerous secrets are closing in on me, he's vowed to protect me.
But who will protect me from him?
Can the boy I've loved my whole life really be the man I need now?
Or are we destined to go down in flames?
Savvi V © 2022