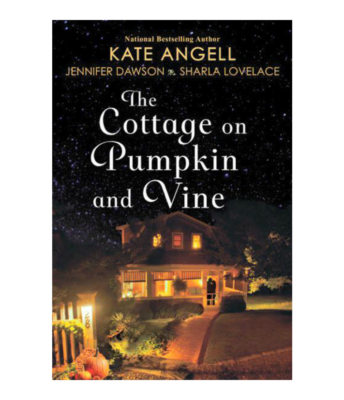 The Cottage on Pumpkin and Vine
8/2016
Where to Purchase:
Caleb James.  Sawyer Finn.  Whoever the hell he was calling himself.  It was all a farce.  And the fact that it had chased her out of the Rose Cottage like her ass was on fire just set her belly to boiling.  Nothing was supposed to undo her like that.  Ever again.
Synopsis
Welcome to Moonbright, Maine…Where the scents of donuts and cider waft through the crisp night air…with just a hint of magic.

It's time for the annual Halloween costume party at the cottage on Pumpkin and Vine, the perfect place to celebrate the pleasures of the season. Guests return to the picturesque B & B year after year to snuggle up in its cozy rooms, explore the quiet, tree-lined streets and enjoy all the spooky fun of the holiday. But local legend whispers that it's also a place where wishes have a strange way of coming true.
For three unsuspecting revelers, it's going to be an enchanted weekend of candy corn kisses and midnight black kittens, along with some real Halloween surprises—the kind that make your heart skip a beat—for many more celebrations to come…
CHARMED BY YOU – Kate Angell
MESMERIZED BY YOU – Jennifer Dawson
ENCHANTED BY YOU – Sharla Lovelace
Sharla Lovelace © 2016