Exactly one month till Simon and Quinn hit your ereaders in THE SWEETEST CHASE, book two in the Heart of the Storm series! Have you preordered?  Amazon Link
I can't wait for y'all to read this book!!   *tapping fingers and toes*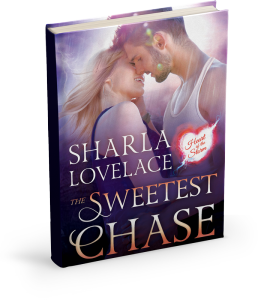 And here's a free little teaser, just to hold you over a bit.  🙂
***
She pulled his face the remaining few inches until his lips met hers, and then everything dizzy spiraled into that one union. His lips were hot and soft and sweet and salty at the same time. They moved on hers tenderly, tasting, testing, and when his tongue touched hers it was better than she could have imagined. She sighed into his mouth, feeling his hands in her hair, feeling his mouth claim hers, feeling her body let go.
She was kissing Simon Chase.  She was kissing Simon Chase.
Wait . . .
She couldn't just let go. There was a reason she—but oh, God, he dove deeper, cradling her head in his arms as he explored her mouth like a man starved. She was starving, too, and she wanted—oh, God she wanted—
And she wasn't pulling away.
***
Enjoy?  More to come!