My nephew brags that I'm his crack dealer, and I proudly take a bow.  Christmas Crack, that is.  And it is truly addicting and amazing.  All you need is nuts and chocolate and a crockpot.  🙂  And these are my ingredients, but you can substitute any nuts you like and any type of chocolate chips you like.  This has varied from the original that I got the first time, so feel free to tweak it for you!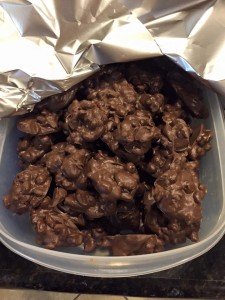 16 oz jar of peanuts (salted or unsalted)
pkg of pecans halves, walnuts, whatever nuts you'd like (I added for the nutty freaks around here)
12 oz bag semi-sweet chocolate chips
12 oz bag milk chocolate chips
12 oz bag peanut butter chips
12 oz bag dark chocolate chips (I added this because I love dark chocolate)
12 oz bag Heath chocolate chips (I do this for my hubby who loves Heath bars)
2) 1 lb pkgs of chocolate almond bark
Layer ingredients in a large crockpot (starting with peanuts).  Layer in nuts every so often to keep the ratio good.  For my family, the more nuts, the better.  Turn the heat on low, cover with lid, and leave sitting for 2 hours.  Then remove lid and stir everything to combine.  Replace lid and leave sitting for another 30 minutes.  Stir again and then spoon mixture onto wax paper or aluminum foil (I learned the hard way not to put directly on a plate…way more work than is necessary).  Allow to harden for at least one hour.
EAT!!!