Maddi in Loving The Chase made these as a kid and still loves these today….  You can make them now!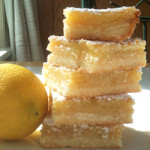 9×13 inch pan
2 cups sifted all-purpose flour
1 cup confectioners sugar
1 cup butter, melted
4 eggs
2 cups white sugar
1 teaspoon baking powder
¼ cup all-purpose flour
5/8 cup lemon juice (can mix lemon and lime)
Directions
Preheat oven to 350 degrees, and grease a 9×13 inch pan. In a medium bowl, stir together 2 cups sifted flour and confectioners' sugar. Blend in the melted butter. Press into the bottom of the prepared pan. Bake in the preheated oven for 15 minutes, or until golden.
In a large bowl, beat eggs until light. In a separate bowl, combine the sugar, baking powder and 1/4 cup of flour so there will be no flour lumps. Stir the sugar mixture into the eggs. Finally, stir in the lemon juice. Pour over the prepared crust and return to the oven. Bake for an additional 30 minutes at 350 degrees or until bars are set. Allow to cool completely before cutting into bars.
Enjoy the yum!