Sharla Lovelace is the bestselling, award-winning author of sassy, sexy love stories. Being a Texas girl through and through, she's proud to say she lives in Southeast Texas with her retired husband, a tricked-out golf cart, and two crazy dogs. She is the author of the exciting Heart of the Storm series, the fun and sexy Charmed in Texas series, and five stand-alone novels including the bestselling Don't Let Go.
Sharla writes modern day, quirky love stories with snarky humor, dysfunctional families, drama, baggage, love problems, and sexy heat. Because who doesn't find all that absolutely delicious?
Stay and look around… Check out her books, send her a message with the "contact me" form, and be sure to subscribe to her newsletter to keep up with when her next book is coming out! Also, if you hang out on Facebook and want to join her awesome reader group The Lovely Lattes, join in!
And if you hang out long enough, you'll probably figure out that she's all about the RED. Sharla loves red, so if you decide to send her a present–well–you know where to start.
So click away….she's not going anywhere.  She's just sitting over here writing.
Gracie… Otherwise referred to as "The Beast" or "Crazy Dog."
Demi… Also called "Sweet Girl" "The Licker" or "Buffalo" on occasion.
And this is the office with the red walls that Sharla has waited her whole life for.
*cue music*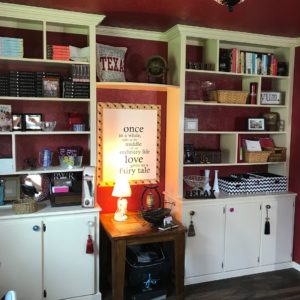 Other random facts:
Once owned a bookstore — awesome
Used to scuba dive — awesome
Have a thing for "red"…if you couldn't tell — awesome
Have a freakish fear of tall bridges — not so awesome…
Something else… Have you seen the "Where I'm From" exercise floating around?  It's amazing and is such a gift you can do for yourself and your family.  Sharla's says alot about where her books come from as well…since they all come from something personal.  Enjoy reading "Where I'm From"…
~~Sharla is represented by Jessica Faust of BookEnds, and can be found (way too much) on Facebook and Twitter.~~